A unique Baroque complex,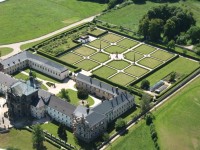 founded by F.A.Sporck. Its construction was started in 1692 (G.B.Alliprandi). The first facility to be built was a spa house erected near a source of curative waters. The spa was put to use in 1695. A hospital with the Trinity Church and crypt was built on the other side of the Elbe river. Kuks's rich sculptural decoration from the years 1700–1734 were installed in two stages, up to 1710 with the participation of B.Zwengs and J.Kohl's workshop, and after 1712 by the workshop led by M.B.Braun, in which the most prominent sculptures includi ng allegoric statues of twelve Virtues and twelve Vices as well as sculptural decorations at the entrance to the trinity Church were created.
In Novy les near Zirec, about 3 km from Kuks, created M. B. Braun another great piece of art, Betlem – a landscape garden with a gallery of Baroque sculptures dating from 1723–1731.
The Kuks chateaux and its surroundings form together the second most important complex of baroque art in Czech Republic after Prague.
Exposition: It is possible to go round to hospital interiors with Baroque pharmacy, to a lapidary with sculptures by M.B.Braun, to a church, and a crypt. A garden and cemetery, as well as Braun`s Betlem in Novy les can be visited individually.
Opening hours of the restaurant Country Saloon in Dvur Kralove
Monday - Thursday: 10:00 - 23:00
Friday: 10:00 - 24:00
Saturday: 11:00 - 24:00
Sunday: 11:00 - 22:00
Our restaurant is non-smoking
Book by calling +420 499 321 596
Dogs are welcome in our restaurant
Do not be worry about your pets! They are also welcome here!!