The underground corridors,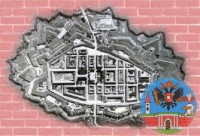 once an important part of the defense system, are visited by tourists as the most interesting place in town. In the eighteenth century, when the fortress was built, these corridors were probably the largest underground means of defense in Europe. Their length totaled approximately 45 kilometers or 30 miles. The tour designed for visitors is about one kilometer or almost one mile long. The tour describes the methods of underground combat and how dangerous the job of army engineers was. The walk in underground passages is overwhelming, mysterious, and romantic. Real candle lanterns, which visitors carry on them, are the only source of illumination. The tour takes about 45 minutes.
Large storage rooms are located in the area of Bastion 1, where one can also get by the connecting underground corridor. A part of the underground area is furnished with original military equipment. In other parts of the strange rooms one can see original statues of saints that were created by the famous baroque sculptor Mathias Bernard Braun. These statues were originally placed on the column monument dedicated to the Virgin Mary. The column is located in the main square in the town of Jaromer.
A parking lot is located near the entrance area. There is also a small stand where beverages are sold. Booklets, pictures, and other interesting things are sold at the ticket booth.
Opening hours:
April and October: Saturdays, Sundays
9.00AM to 12.00 , 1.00PM to 4.00PM
The last tour starts at 3.15PM.
May through September: Tuesday through Sunday (closed on Mondays)
9.00AM to 12.00 , 1.00PM to 5.00PM
The last tour starts at 4.15PM.
Opening hours of the restaurant Country Saloon in Dvur Kralove
Monday - Thursday: 10:00 - 23:00
Friday: 10:00 - 24:00
Saturday: 11:00 - 24:00
Sunday: 11:00 - 22:00
Our restaurant is non-smoking
Book by calling +420 499 321 596
Dogs are welcome in our restaurant
Do not be worry about your pets! They are also welcome here!!