The late baroque chateaux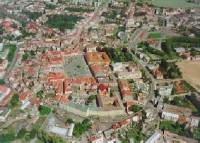 is situated in the town Jicin halfway between Prague and the highest Czech mountains, The Krkonose.The chateaux was built at the beginning of the 17th century, but it became famous and reached the highest prosperity in the second half of the 17th century under t he rule of Albrecht from Valdstejn (the chateaux is so called after him The Valdsejn chateaux).The importance of the chateaux declined after his death.Today's cha­teaux is a oblong two storey building around three courtyards with arcades on the ground floor, which serves as a museum. The town Jicin is famous for its fairy tale character -Rumcajs- which was created by Radek Pilar. This artist has two permanent exhibition places in Jicin, one of them is in the Valdstejn chateaux.
Exposition: Historical interiors, conference saloon of Three caesars, exposition about the history of the town and its surroundings. Gallery in former stable. Museum with some interesting collections in the chateaux. For example gothic coffer from 1560, painted altar, Pieroni's plans for the Jesuit buildings, the painting of general from 17th century. There are also :
baroque statues of St.John. St.Jacob, St.Barbara and St. Catherine.
paintings: J.J.Major : Albrecht from Valdstejn on the horse, Raab : Teaching of Ignac from Loyola, The death of St.Ignac.

The chateaux is situated in Jicin.This town was established around the year 1300.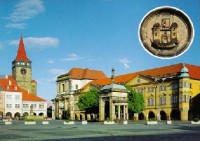 In 1487 Jicin was bought by Mikulas Trcka of Lipa who set up his residence in the house No.1.At the end of 16th century the residence was enlarged and after 1608 rebuilt into chateaux by Zikmund Smiricky.This chateaux was terribly damaged in 1620 by the explosion of gun power. In 1623 the chateaux became a property of Albrecht of Valdstejn, who decided to rebuilt and extend it. The construction was led by an italian architect A.Spezza, from 1629 to 1630 by G.Pieroni, who finished the uniform layout of the frontispiece, and than by N.Sibregondi.The construction of the chateaux was finished in 1934. The chateaux burned down in 1768. After the fire it was reconstructed until 1775 in late baroque style by J.Thoma.In 1809 there was again a fire which damaged the chateaux and it was newly equipped in empire style. The chateaux has three courtyards.The front part leading to the square has two floors, the back part has only one floor. The frontispiece is jointly designed in baroque style with two triangular gables and arcade on the ground floor.
Opening hours of the restaurant Country Saloon in Dvur Kralove
Monday - Thursday: 10:00 - 23:00
Friday: 10:00 - 24:00
Saturday: 11:00 - 24:00
Sunday: 11:00 - 22:00
Our restaurant is non-smoking
Book by calling +420 499 321 596
Dogs are welcome in our restaurant
Do not be worry about your pets! They are also welcome here!!