Castle is situated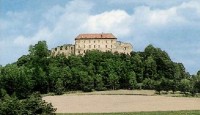 just over the small town of the same name. It is unknown who and when founded the castle. Due to the extant ruins it seems, th at early Gothic body of the castle arose in the beginning of the 14. century. The first known owner and also possible founder of the castle was Budivoj from Pecka.
The way to the castle led over the drawbridge where 4,5 m wide wall took a place. In this wall there was an archway and on its right side a gate for people. Alongside this gate there was situated solid round tower with the same width of the walls, that is 4,5 m. When the people passed an archway, they entered a bail. On the other side of the bail, there was a place for Gothic palace and this was on the left side protected by smaller wall. There is almost nothing left from this palace, except cellar and a portal in the first floor. In this part of the castle, there was also a well. Former castle was surrounded by deep moat and rampart. This rampart was even doubled in the northwest part.
Opening hours of the restaurant Country Saloon in Dvur Kralove
Monday - Thursday: 10:00 - 23:00
Friday: 10:00 - 24:00
Saturday: 11:00 - 24:00
Sunday: 11:00 - 22:00
Our restaurant is non-smoking
Book by calling +420 499 321 596
Dogs are welcome in our restaurant
Do not be worry about your pets! They are also welcome here!!